How to order your copy of the SS Nevasa book
---
SS Uganda Trust home page
Introduction to the SS Uganda Trust
A history of the SS Uganda
Layup and demolition voyage (1985 to 1986)
---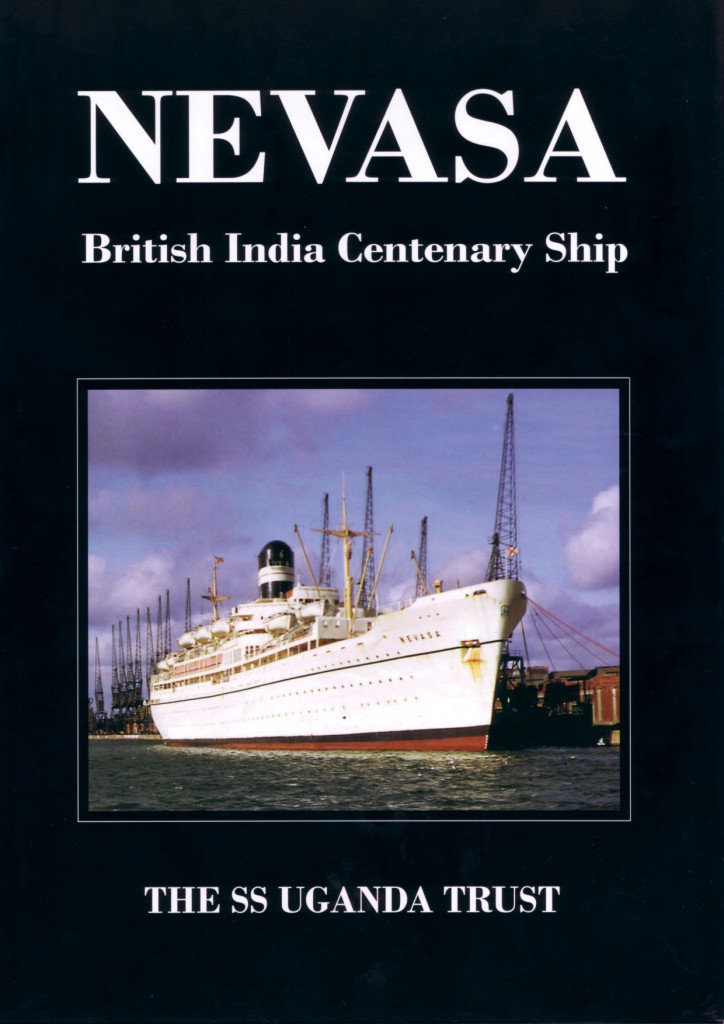 "NEVASA British India Centenary Ship" tells the story of the third Nevasa that was built in 1956 as a troopship under government aspecifications and therefore with a buff funnel rather than the well respected B.I. black funnel with two white bands. Nevasa quickly became popular with her passengers but her career as a troopship was cut short as the result of the government's termination of national service and the increasing transfer of troops by air. In October 1962 she was laid up in the River Fal.

Eventually BI took the decision to convert Nevasa for a new role as an educational cruise ship. As part of the conversion in 1965 her funnel was painted in B.I. colours and she commenced cruising alongside Dunera and Devonia, both already operating as successful school ships. From 1968 Nevasa worked with Uganda, but in 1974 the huge rise in oil prices curtailed her use and she was scrapped in 1975, leaving the more economical Uganda to carry on alone.

This book tells the story of the two very successful lives of Nevasa that were both tragically cut short. Much of the information is anecdotal, provided enthusiastically by those who remember her, whether as members of the ship's company, the armed services, school parties, cabin passengers or head office staff. BI has long been involved in trooping and, as an introduction, a short history of trooping has been included.

As with the SS Uganda Trust's book about the SS Uganda, the Trust has produced a unique and affectionate study of a ship and a way of life which sadly is no more. This book will appeal to anybody with an interest in the SS Nevasa, the B.I. company, shipbuilding on the Clyde, trooping and military postwar history, educational cruising and/or life at sea on a British ship between the 1950's and 70's.
Hardback with dust jacket
A4 format (297 x 210mm), 328 pages
Over 300 b&w illustrations and over 50 colour illustrations
ISBN 978 0 9531082 1 3
Price £30.00 including post and packing for UK addresses (contact us for surface and air rates overseas)

Available by mail order from the SS Uganda Trust. Payment by Sterling cheque only, payable to the SS Uganda Trust. Please include your telephone number with the order and allow 28 days for delivery to addresses in the UK. Any profits from the sales of the book will be used towards the objectives of the Trust, which include sponsorship of disadvantaged children to go to sea.

Alan Cullen
SS Uganda Trust Treasurer
6 Orchard Close
Chelmsford
Essex CM2 9SL
United Kingdom
---
The SS Uganda Trust is a UK Registered Charity no. 1020247